Custom Rubber Grommets
Manufacturers of rubber grommets for many applications in a wide variety of designs and materials. We can manufacture custom rubber grommets for your 1 off needs through to mass production. Working to Kanban delivery schedules with weekly or monthly call offs. Butser Rubber manufacture: Bespoke EPDM grommets, Viton grommets, nitrile grommets, natural rubber grommets and silicone grommets.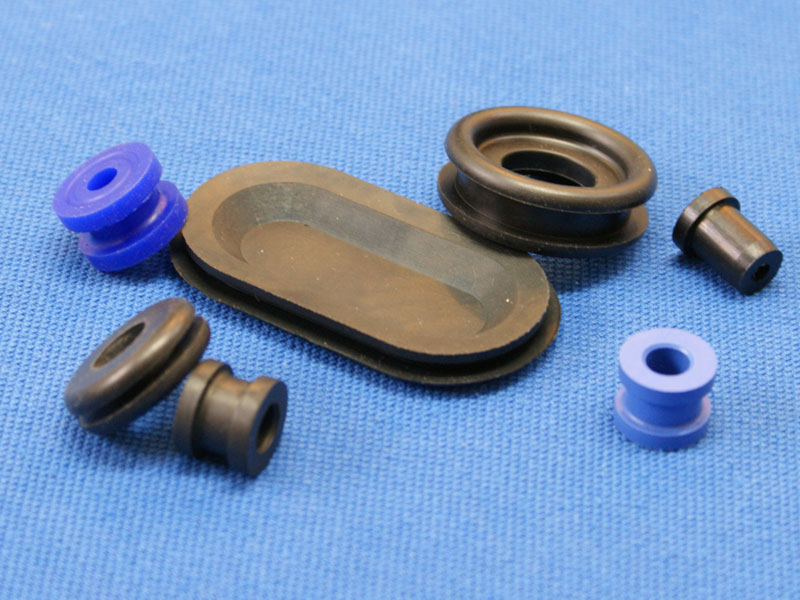 Automation
Semi-Automated processes allow for over 2500 units per hour (Over 20,000 units per shift) as well as specialist processes for  'one off specials' and small batch runs for aerospace, motorsport and  industry.
Moulding techniques
Butser Rubber use both compression and injection moulding processes to manufacture your rubber grommets.  30 years of experience using a wide range of rubber and silicone materials provide a good frame work to manufacture a grommet to your requirements.
Application environment
Butser Rubber can supply your grommets to meet many application environments, such as: high and low temperature exposure, High UV, Oils, Fuels, Marine spray, etc.
Butser Rubber have been supplying Formula one teams with specialist Viton Grommet designs for over 25 years.  Continuous process improvements given us a good understanding of how to manufacturer your grommets in a wide range of  Vitons® (Dupont) and FKMs efficiently.
Modular tooling
Using modular mould tooling, Butser Rubber are able to manufacture many 'Open' , 'Blind' and 'Blank' grommets using an interchangeable tooling base, so if you require similarly designed grommets with different end configurations (For Example, one Open Grommet and one Blind / Blank Grommet), we can keep the cost of the tooling down by trying to standardise production or use composite moulds. (This is limited to design).
Design and advice
Please feel free to ask for advice so we can help to design in cost savings before manufacture.
Please see video example a 'blind silicone grommet' being manufactured on a 144 cavity tooling.
Blind Rubber Grommets
Butyl Grommets
Chloroprene Rubber Grommets
EPDM Grommets
EP Grommets
FKM Grommets
Fluorocarbon Grommets
Fluorosilicone Grommets
Fluoroelastomer Rubber Grommets
HNBR Grommets
Hydrin Grommets
Insulating Rubber Grommets
Epichlorohydrin Grommets
Natural Rubber Grommets
Neoprene Grommets
Natural Rubber Chassis Grommets
Nitrile Rubber Grommets
NBR Grommets
Hydrogenated Nitrile Grommets
Platinum Cured Silicone Grommet
Polyurethane Rubber Grommets
Poly U Grommets
PU Grommets
Silicone Grommet Caps
Silicone Blind Grommets
Sleeved Grommets
Viton Rubber Grommets