Butser Rubber is an industry leading manufacturer and supplier of bespoke Laser Cut Gaskets. With over 40 years' experience manufacturing bespoke RP (Rapid Prototype) Laser Cut Gaskets our reputation has been developed by working alongside customers to build in cost-reduction into the design of products. Our state-of-the-art Gasket manufacturing facilities enable us to meet the most demanding applications in industries including Automotive, Aerospace and Defence. Butser Rubber work hard to meet the technical requirements of our customers Gasket products as well as providing short lead times and excellent customer service.
Butser Rubber can meet recognised quality and inspection standards to meet customer requirements. We can provide PPAP Level 3 documentation to support our laser cut gaskets products, First Article Inspection Reports to AS9102 and Certificate of Conformity paperwork with full lot tracebility back to suppliers batch. Please Contact Our Team for more information.
RP (Rapid Prototype) Gasket Manufacturer UK
Laser cut RP gaskets in: Rubbers, Sponges,  Woods, Card and organic materials. We can apply self-adhesive backing to gaskets prior to cutting. We can mass produce items in large quantities as well as manufacturing one off gasket prototypes. We can work to KanBan delivery schedules in daily, weekly and monthly call off's.
Laser Cutting Specialist
As our gasket manufacturing capacity has increased over time, we have diversified into alternative gasket cutting techniques. Many of our customers gaskets are cut using state-of-the-art, precision fibre laser cutting machinery. The laser cutting technique has been adopted very quickly and provides extremely fast gaskets with little to no thermal distortion.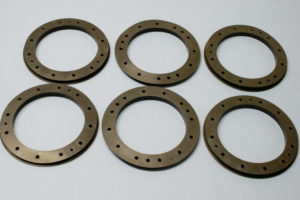 Laser Cutting Software
We use an advanced 'nesting' software when manufacturing using the laser cutter which optimises the orientation and position of each object being cut on a single piece of material to minimise waste and reduce operation time. This allows us to directly pass the cost savings onto our customers in our built in cost-down process.
HVAC Gaskets
Container Gaskets
Automotive Gaskets
Roller Gaskets
Marine Gaskets
Appliance Gaskets
Anti-Vibration Gaskets
Coupling Gaskets
Filter Gaskets
Wiper Gaskets
Hydraulic Gaskets
Oil Well Gaskets
Water well Gaskets
Battery Cap Gaskets
Electric Transformer Gaskets
Jar and Bottle Gaskets
Non-conductive Insulation Gaskets
Filtering Gaskets
We use state-of-the-art laser cutting machinery to manufacture many gasket components. We can manufacture precision rubber profiles using over 350 materials. We can also manufacture gaskets using specialist materials including high and low temperature rubbers & silicones, conductive rubbers & silicones and cork material.
Require Alternative Gasket Manufacturing Method?
For alternative manufacturing techniques, visit our other gasket cutting pages: