Butser Rubber are specialist 'custom rubber gasket' manufacturers and suppliers.  Dedicated in-house gasket manufacturing capabilities, using an extensive range of Rubbers, Silicones and Sponge materials in commercial, aerospace and defence specification such as DTD, AMS, Def Stan and BS.
Gaskets and Seals can be manufactured using Injection Moulding for 3D designs with custom design features, or traditional 'cropping' from rubber sheet for 2D designs.  We can take you gasket project from 1 off and prototyping through to production.
2D & 3D Gasket Production
Butser Rubber can manufacture 2D 'Punched or DXF cut' gaskets, as well as moulded 3D profiled custom gaskets. We also have a range of jigs and processes that allow us to 'Hand Fabricate' large and prototype gaskets.
Need your gaskets adhesive backed? Let us know your requirements at enquiries@butserrubber.com
.
Rubber Gasket Materials
Butser Rubber customers can select from over 350 'off-the-shelf' rubber and silicone materials including specialist high-temperature resistant, fuel resistant and chemical resistant materials. We can also develop new materials for customers such as our 'loaded rubber' range. Our materials can meet British and European standards, MOD, WRAS, Automotive and FDA requirements.
For additional information, please visit our materials page.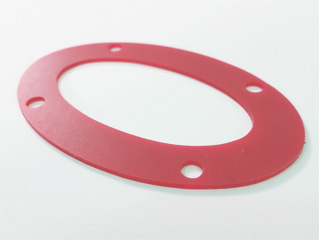 Specialised Gasket Cutting
Using either laser cut tooling, hydraulic presses or DXF controlled cutting beds, Butser Rubber are able to manufacture gaskets to all industries whether your gasket requirements are standard or customised. See our gaskets in action; they are on all Airbus commercial airliners as well as every Formula 1 car!
Our Gasket Cutting Methods
Visit our gasket cutting pages to learn more about what we have to offer:
Manufacturing advantage
As a specialist rubber supplier, Butser Rubber has a unique gasket manufacturing advantage over other gasket suppliers, as we are able to mould custom rubber sheet to your specification from any of the rubbers mentioned on the materials page.
This USP allows us to supply unique rubber blends in sheet form to other UK based gasket providers, which they in turn convert into gaskets for their customers. We can do it all under one roof, allowing for a shorter lead time and a competitive price.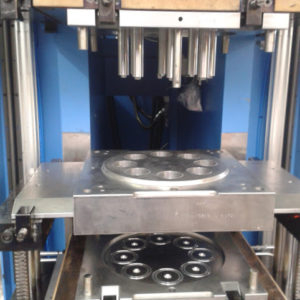 Battery Housing Gaskets
Cork Rocker Cover Gaskets
Nitrile Rocker Cover Gaskets
Rubber Gaskets Housing
FKM Battery Gasket Housings
Natural Rubber Airtray Gaskets
Natural Rubber Cartridge Gaskets
Natural Rubber Connection Gaskets
Natural Rubber Nut Ring Gaskets
Potentiometer Cover Gasket
Rubber Pump Gaskets
Rubber Rocker Cover Gaskets
Moulded Rubber Gaskets
Scavenge Gaskets
Silicone Sponge Gaskets
Bisco Silicone Sponge Gaskets
Sight Glass Connector Gaskets
Silicone Gasket Housings
Silicone Gasket Caps
Silicone Connection Gaskets
Silicone Nut Ring Gaskets DTD
Nitrile Gaskets
EPDM Gaskets
Viton Gaskets