UK based manufacturers and suppliers of custom rubber mouldings in a vast range of rubbers and silicones. Butser Rubber have over 40 years experience to support you through the design and manufacture of your bespoke rubber mouldings. We will offer guidance throughout your project to help reduce lead time and manufacturing cost. Our impressive state-of-the-art machinery is capable of numerous moulding processes incuding injection, compression and transfer moulding.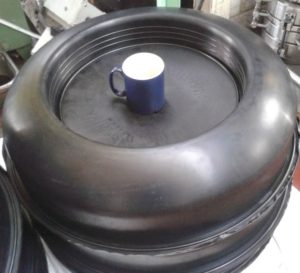 Expertise
Butser Rubber are specialist rubber moulding manufacturers.  All of our moulded rubber products are the result of our customers' exact requirements.
We offer a 'turn key solution' from drawing to full production including tooling.
Butser Rubber currently manufacture over 5000 moulded product lines. We are able to mould components in a very wide range of rubbers and silicones including, EPDM, Nitrile, fluorocarbon, fluorosilicone and Silicone.
For a full list of current moulding materials, please visit the materials page.
Technology
Butser Rubber is continuously investing in rubber moulding technology.   We have purchased 2 brand new German Injection moulding machines this year, and have just taken delivery of another 2 semi-automated vacuum compression moulding machines to compliment last year's investment.
This investment provides large capacity for supplying OEMs as well as all of our other fantastic customers. The improved rubber moulding machines and processes also allow us to manufacturer rubber mouldings for other rubber companies who struggle with either technical moulding problems or lack of technology.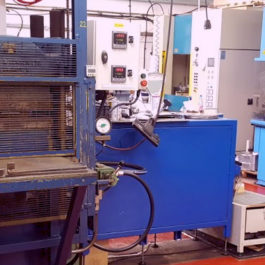 Facilities
Butser Rubber are able to manufacture rubber mouldings weighing as little as 0.1 grams up to 10kg per item using single or multi cavity tooling. Our largest moulding machine can handle tooling upto 1.2 metres by 0.9 metres.
All the above moulding processes are supported with high quality trimming and finishing processing including computer controlled Cryogenic 'Freeze trimming' and high kinetic energy 'Spin trimmers'. This allows for a stable repeatable product finish.
Please see automotive EPDM rubber components being manufactured using an injection moulding process in the video below.
Custom Rubber Moulders
Explore more to learn about what we can offer:
Rubber Injection Moulding in Action!
See our automated rubber injection moulding machines manufacturing custom EPDM rubber pipe clips. After a fast 8 minute moulding cycle, the mould tools is opened and and the fresh rubber pipe clips are ejected using an ejector pin array. The rubber pipe clips will then travel through the factory to our inspection department where they will be trimmed and measured using our new precision CMM machine.
Why Custom Moulding?
Having your rubber product manufactured in a bespoke manufacturing facility enables us to cater to your unique project requirements. We are able to offer our extensive experience to customers throughout the design and manufacture process to deliver reduced cost and a faster lead time.